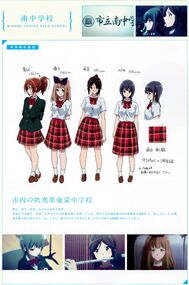 Minami Junior High School (南中学校, Minami Chūgakkō?) is a junior high school in the Hibike! Euphonium series, which Nozomi, Mizore, Natsuki, and Yuuko attended and graduated from.
One year prior to the start of the main series, band members from Minami moved on to attend Kitauji High School and joined Kitauji High School Concert Band in hopes for the new start with a new band program. However, upon discovering the situation in the band, most of the new freshmen quit the band.
Minami Junior High School Concert Band
During their last year at Minami Junior High School - Nozomi, Mizore,and Yuuko were part of A-team of the band. Their band participated the All-Japan Band Competition, and, in the light novels, they selected as their free-choice piece "Daphnis et Chloé Suite No. 2", an extremely difficult piece by Maurice Ravel that features highly technical woodwind parts. In the anime, this piece is replaced by "Prince Igor" from Borodin's Polovetsian Dances. The first couple minutes of the piece are heard in the show itself, while a later section was used in the second season's main trailer.
Minami's concert band earned a silver medal despite their hard work, leading to the emotional state of its members which created the set-up for the schism.
In the light novels, it is mentioned that Minami's band program is famous for their excellent woodwinds, particularly the flute section, which has remained the strongest and most outstanding section in the band for many years. This may have been why Minami's conductor, in the light novels, chose to feature their woodwinds by selecting Daphnis et Chloe. Kumiko Oumae is one of many fascinated with their sound, and often listens to recordings of Minami's performances just to listen to their flute section. When Nozomi Kasaki practices flute on Kitauji High School's overpass, Kumiko recognizes the distinctive sound as belonging to a Minami flutist.