Ready, Set, Monaka (かけだすモナカ, Kakedesu Monaka) is an OVA side story of the first season of Sound! Euphonium series. It was released on Wednesday, December 16, 2015.
Summary
[
]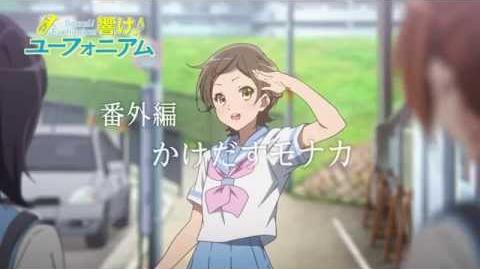 The episode focuses on Team Monaka, the members cut following the auditions, as they prepare to support the band in their own way, in advance of the competition. It is told from Hazuki Katou's point of view.
Team Monaka
[
]
Team Monaka consists of the ten members of the band who did not make the audition: Akiko Yoshizawa, Hazuki Katou, Hisae Takano, Lala Hitomi, Sayaka Fukui, Tsubame Kamaya, Tsubomi Nakano, Natsuki Nakagawa, Shinobu Morita, and Tomoe Kabe, who served as the leader of the team.
From the time of the audition to the performance, Team Monaka did background work for the club to support them, including packing and carrying supplies, cleaning, and providing moral support. Additionally, they were responsible for acquiring the large mallets which were forgotten on the day of the performance. Noboru Taki stressed that they must use their frustration about not making the auditions towards practice, and gave them a piece to perfect, later revealed to be an arrangement of the pop song Gakuen Tengoku in "Mid-summer Fanfare".
The team also decided to create some kind of small gift for the performing club members. They took a day trip to a craft store and later rendezvoused at Sayaka's home where she designed a small, round, colourful charm that had the member's initials written on it and a "Good Luck" message written on paper inside.
Trivia
[
]
Team Monaka's name was based on the first syllable of the three second-year members' first names (romanized) combined in a way: Shinobu Morita (

森田 しのぶ

Morita Shinobu), Natsuki Nakagawa (

中川 夏紀

Nakagawa Natsuki) and Tomoe Kabe (

加部 友恵

Kabe Tomoe).
Gallery
[
]