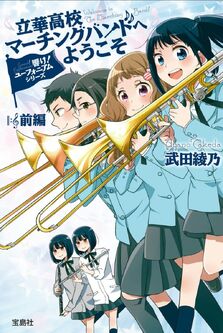 Rikka High School (立華高校, Rikka Kōkō?) is a fictional top-tier senior high school in Kyoto, Japan. It is known for its extremely competitive band program, and is a regular finalist ensemble at the last rounds of the All-Japan Band Competition. The band's marching uniforms are light blue short dresses, earning them the local nickname of "Blue devils."
Rikka is based on the real life Kyoto Tachibana High School Band, which is based in Kyoto and is one of the top high school bands in Japan and in the world. It is an all-female marching band, and the students are known for their highly difficult dance moves which they perform while playing their instruments at the same time. The Rikka marching band uniforms were modeled after the Kyoto Tachibana orange uniforms, which in real life earned them the nickname "Orange devils."
Kyoto Tachibana's signature performance song is Benny Goodman's "Sing Sing Sing," whereas Rikka's is Luigi Denza's "Funiculi, Funicula."
Azusa Sasaki is a middle school friend of Kumiko Oumae, and is an attendee of Rikka High School. Meanwhile, Reina Kousaka turned down an invitation from Rikka High School in favor of attending Kitauji High School.
Rikka High School is first seen at the Sunrise Festival, where their phenomenal performance caused the Kitauji Concert Band students a fleeting bout of panic. Later, during the first round of the All-Japan Band Competition, they are seen backstage waiting for Kitauji to finish their performance.
In Print Media
Rikka High School is featured in the Welcome to Rikka High School's Marching Band light novel series. The story-lines of Volume 1 and Volume 2 are narrated from Azusa's point of view. A separate novel named Sound! Euphonium Kitauji High School's Concert Band Diary is the continuation to both the main series and Rikka's spin-off series.